4 Questions To Ask About Landscape Lighting in Central Florida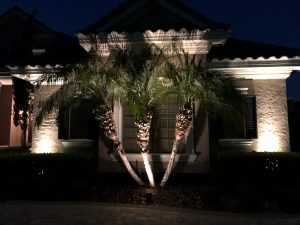 When done right, landscape lighting are the perfect complement to an already beautiful home. A landscape lighting design can add security, highlight important features, and add a little touch of drama to your neighborhood. Let's take a look at some of the top questions to ask about the different types of outdoor lighting.
1. Where, exactly, should the extra light be added?
The positioning of the light throughout the outdoor area is essential to the final result. A porch light will not prove pleasing enough. Lighting is provided in families, meaning a coordination of fixtures of varying sizes for varied locations.
2. How much do I value energy efficiency?
The United States Department of Energy (DOE) reports homeowners consume more electricity with outdoor lighting compared to other rooms in terms of electricity use per day. This means you can save a bundle if you take the energy efficient route with your outdoor lighting. Consider integrated LED lights. These fixtures are available in several styles and sizes. Integrated LED lights stand the test of time and prove reliable regardless of the elements.
Those who opt for an incandescent lighting system should consider bulbs that are comparable and energy efficient. As an example, a LED or compact fluorescent lamp (CFL) will provide illumination without sending your utility bill through the roof. Modern-day CFL bulbs are designed to provide natural-looking light with fantastic color. Though LED retrofit lights are costly, they will last comparably longer. In general, LED is optimal for cold periods of the year as CFL bulbs do not react well to the low temperatures. In fact, some CFL bulbs will not work on those especially cold days. LED bulbs prove functional even when the temperatures dip down low.
3. Does more light always mean better light?
Do not go overboard with lighting. Though there are many different types of outdoor lighting to choose from, adding too much light is a mistake. Simply adding more light does not mean it will improve the look of the home. In fact, if you add too much light to a space with glass, it can produce a nasty glare.
If you are concerned about the amount of light, focus on the bulb. If you favor a soft, warm glow that beautifies your home and provides just the right level of light to those sitting outdoors, opt for lower lumen lamps. Lighting with candelabra lamps should have incandescent bulbs between 7 and 15 watts. Between 3 and 5 watts will be necessary for lamps meant to replicate candles.
4. What sort of style am I striving for with the lights and my home as a whole?
The style of your home means a lot when it comes to outdoor lighting. Consider what sort of aesthetic you are trying to establish. The lighting you select should ultimately match or complement your home's style. Whether you are interested in traditional aesthetics, modern aesthetics, a bungalow style home or anything else, make sure your vision is clearly defined prior to shopping.
It will also help to consider the hues used in the building's roof, siding, and stonework. Lighting with a brass, bronze or copper finish works best with homes that feature earthy tones. Properties with grey, black or slate tones should be equipped with lighting with a white, chrome or black finish. Even the home's proportions matter. A home built between 1950 and the early 2000s will likely feature 8'-0″ ceilings. Opt for shorter lighting for such a home so the size matches up just right. Alternatively, taller lighting tends to look best on comparably old and new homes.
If you are looking to add new lighting features to your home, contact us at Snyder's Landscapes today. We offer landscape lighting services in Altamonte, Longwood, Lake Mary, Heathrow, Sanford, and Winter Park.